When you want exceptional far infrared benefits and are limited on space, choose The Curve as part of your wellness routine. You are surrounded in healing far infrared heat, all at an affordable price. The Curve is perfect for home use, day spas, wellness facilities, gyms and more.
The Curve is comprised of two lightweight domes that make it very easy to store in a corner or closet. The outer material of the dome is made with a natural easy-clean, no-VOC vinyl. The Curve can be setup anywhere and then stored away when not in use. The included Amethyst Infrared PEMF Mat allows you to have infrared heat on both the back and front of your body and is made with over 25 lbs of Amethyst.  The infrared wavelengths of the mat harmonize with PEMF therapy to stimulate natural recovery processes, enhancing overall well-being.
For an exceptional far infrared experience, simply place the Curve Sauna Dome on top of the mat,  surrounding yourself with healing heat that detoxifies, relieves muscle pain, and supports weight loss. Perfect for home use, day spas, gyms, and more.
• Solid wood construction, luxurious finish and control panel with wood stand.
• True Wave low EMF Far Infrared heating elements inside the dome.
• Includes the Clearlight exclusive Amethyst Infrared PEMF Mat to lay on while inside the dome.
• The electronic control system allows you to control the heat of each dome section separately.
• Both the Curve Sauna Dome and the Amethyst Infrared PEMF Mat come with a 7 year residential warranty or 5 year commercial warranty.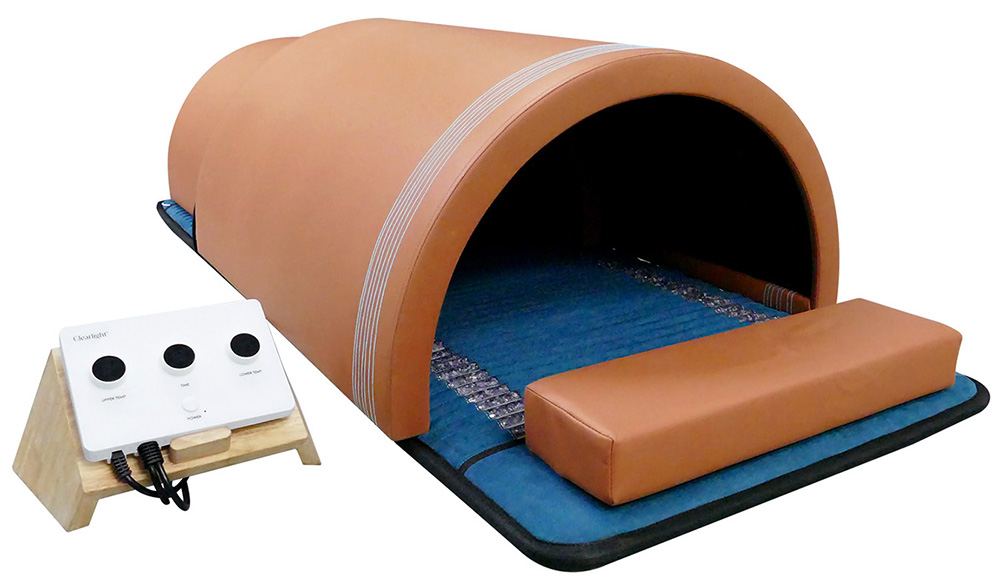 Superior Heater Technology
Our Far Infrared heaters combine Carbon and Ceramic to produce healing infrared heat that is  unmatched. Our heaters are comprised of micro-thin carbon fibers (1/1000th the thickness of a human hair) combined with our patented ceramic compound.  We start with a high quality organic carbon fiber sheet. Then we add our high output (high emissivity) ceramic compound, which produces long wave infrared heat unequaled by carbon heaters alone.
The majority of EMF (Electro Magnetic Fields) is canceled out, making the Curve the safest and most
effective sauna dome available.
Updates
Curve Infrared Sauna Dome Updates:
Dome color changed to an elegant terracotta color.
Dome material upgraded to Vinyl for enhanced durability.
Wheels introduced for effortless mobility and setup convenience.
Dome dimensions expanded for a more spacious relaxation experience. New Measurements: 71" x 34" x 20"
Weight reduced to 53 lbs through innovative structural reengineering (without the Amethyst Mat).
Curtain color and material upgraded to premium cotton.
Pillow material upgraded to Memory Foam for ultimate comfort.
Control box received a modern facelift while retaining full functionality.
Wood stand added for the control box's elegant display.
Infrared mat replaced with the exquisite Amethyst Mat (Mat will come in a separate box).
Towels are replaced with a fitted washable cover for the mat, packaged together (Will come in box with Amethyst Mat).
Shipping box size optimized for more cost-effective freight options.
Amethyst Infrared PEMF Mat:
PEMF modules increased from 4 to 10 for expanded therapy coverage.
Control box features a sleek modern design and an added Timer function.
Wood stand introduced for the control box's aesthetic appeal.
A fitted cover has been thoughtfully added for customer convenience and mat protection.
Additional covers will be available for separate purchase, allowing customers to personalize their experience.
Specs
Exterior Specifications
Domes:  Adjustable up to:  70.75″ x 34.5″ x 20.5″
Infrared Mat:  72.75″ x 29.5″
Weight of Curve Sauna Dome:  44 lbs.
Weight of Amethyst Infrared PEMF Mat:  40lbs.
Electrical Specifications
The Curve plugs into a standard wall outlet:
Dome:  120 Volts / 960 Watts / 8 Amps
Infrared Mat: 120 Volts / 180 Watts / 1.5 Amps
Warranty
 Both the Curve Sauna Dome and the Amethyst Infrared PEMF Mat come with a 7 year residential warranty or 5 year commercial warranty.